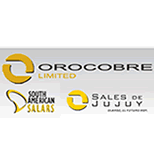 MENDOZA, ARGENTINA. July 24, 2012.
Argentina Mining is pleased to announce that Orocobre joins our company as Diamond Sponsor -the highest sponsorship category- at the 9th International Convention on Business Opportunities in Exploration, Geology and Mining, Argentina Mining 2012, which will take place September 4-6, 2012
,
in Salta Province. Orocobre Limited is a leading firm in lithium-potash projects and also a developer of resources in the "sweet spot" of the lithium triangle in Argentina. The company is well-positioned to become in an important low-cost lithium producer, with world-class assets and a promising portfolio of lithium deposits to satisfy the continuous strong growth in energy-storage markets. Orocobre goes public in Australia ("ASX") under the "ORE" symbol, and in Toronto ("TSX") as "ORL." The firm operates in Argentina through two subsidiaries: Sales de Jujuy and South American Salars. Orocobre's flagship Project in Argentina is
Salar de Olaroz
in the province of Jujuy, which is highly recognized as the next worldwide and low-cost, large scale lithium-potash project. The company has joined with Toyota Tsusho Corporation to develop
Salar de Olaroz
and it completed the Definitive Feasibility Study of the project in April, 2011. Governmental approvals were granted in June, 2012. The construction is planned to start in September, 2012 and to have the initial commercial production in early 2014. The firm has been producing quality batteries of lithium carbonate in
Salar de Olaroz
since the beginning of 2011 in an onsite transformation pilot plant. Besides, Orocobre has been successful in the assembly of a promising line of lithium and potash. With all these, Orocobre has the properties' rights that cover other 10 salars in Salta, Catamarca and Jujuy which may bring important amounts of lithium, potash and boron. "It is an honor for us that Orocobre joins Argentina Mining as Diamond Sponsor and we are grateful for their support. It is pleasant for us to receive their backing at Argentina Mining 2012. We welcome the company and value the effort they make in our country", expressed Martín Frigerio, Manager of Argentina Mining, Organizing Company of Argentina Mining 2012. Besides, the company Sponsors the II Forum of Mining Opportunities that will be held on September 6 at Argentina Mining 2012. The forum is focused on allowing other economic sectors of the community to know key aspects of the mining industry, and at the same time, to deepen on mining opportunities that may arise for them in the industry. Orocobre joins to the first line companies confirmed as sponsors at the 9th International Convention on Business Opportunities in Exploration, Geology and Mining, Argentina Mining 2012: Orocobre (Diamond); Silver Standard, MWH and Cartellone (Platinum); AcmeLabs, ALS, Argentex, Votorantim and Mansfield (Gold); Pan American Silver Argentina (Silver); Deloitte, Randstad and Ausenco Vector (Copper); Energía Mineral, Metallum, InfoMine, PCR and Manpower (Bronze) and Panedile (Business Center Sponsor).
About Argentina Mining:
Argentina Mining is an Events and Marketing firm focused on the
Argentinean mining
market, with offices in Mendoza and Salta. Its objectives are gathering the mining community in Argentina and providing a place to promote the activity in the world, developing business opportunities for its members. The company organizes the premium international event of the Argentinean mining sector, the Argentina Mining Convention, which takes place biennially in Argentina since 1996, and the Latin Exploration Conference, among others. Additionally, it provides advisory services in public relations and marketing and develops supplementary products. For further information please visit
www.argentinamining.com
About Orocobre:
Orocobre develops its flagship Project in Jujuy, Argentina with
Olaroz
, which consists of 63,000 hectares of a salar with high values of lithium and potash in brine. The Project is in a high and arid
Puna
region in northwest Argentina and is properly communicated by a key infrastructure, including paved roads, high voltage power, gas pipeline and railroad access. The
Olaroz
Project is about to start the construction in September, 2012 and to begin the initial production of lithium carbonate in early 2014. For further information, please visit:
www.orocobre.com