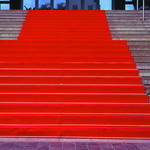 We have wide experience in comprehensive staging and organization of corporate events , congresses, conventions and seminars since 1996. We also advise clients on their participation on third parties' events, as well as on the staging of their own events. Some of our services in this area are:
Design and planning of activities.
Ceremonial and protocol.
Schedules, scripts and budgets.
Evaluation, selection and supervision of suppliers.
Personnel training and control.
Booths and graphic materials production.
Advise on commercialization of events.