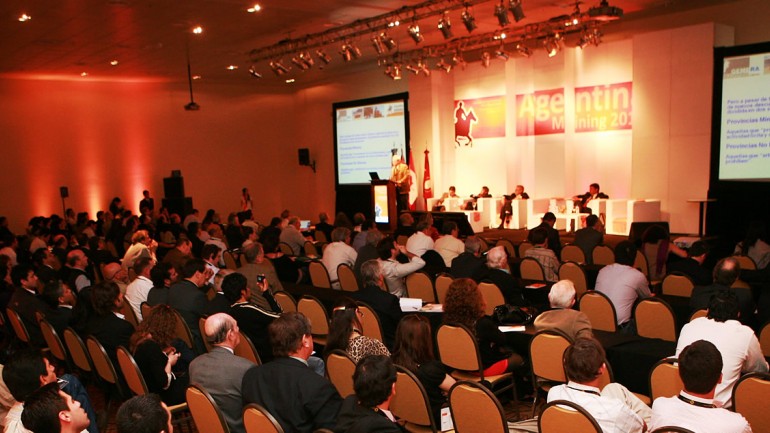 9th International Convention on Business Opportunities in Exploration, Geology and Mining, Argentina Mining 2012 took place September 4-6, 2012.
Argentina Mining is the premium international meeting of the mining sector in our country and it takes place biennially since 1996. Mining conferences have taken place in South America since 1995 and Argentina Mining 2012 was the 10th edition of this important event in our country. Previously, Bolivia Mining 95, 99 and 2001, and Ecuador 97 were held.
The next edition will take place in 2014.
Argentina Mining is an excellent opportunity to establish business contacts; to promote mining properties; to offer products and services; to become informed on mining regulation and policies, as well as to be updated in the evolution of mining projects and exploration plans, everything in a fully focused mining environment, alongside its key players.
Highlights
Among the most important aspects of this edition, we can highlight the following ones:
More than 500 companies were present through the different options of participation.

Record in the presence of mining companies in an Argentine event. 24% of the participating companies were mining firms, which places us one more time with the highest percentage among the mining events in the country.

More than 110 booths and more than 125 exhibitors were located in more than 5000 m², inside and outside the facilities.

More than 2000 attendees, among exhibitors, delegates, speakers, visitors, press members, students and teachers of mining-related careers.

23 countries were present and also 2 international Pavilions: Canada and Australia. The latter had an active presence of embassies' delegations and of their ambassadors.

27 companies participated as Sponsors: Orocobre, South American Salars, Sales de Jujuy, José Cartellone civil constructions, MWH, Silver Standard Resources, TPF, AcmeLabs, AGV Group, ALS, Argentex, Alto Americas, Mansfield, Vale, Votorantim, PAS Argentina, Urbino, Ausenco Vector, Colque Exploraciones, Deloitte, Randstad, Energía Mineral, Manpower, Metallum, Infomine, PCR, Panedile, Minera Santa Cruz. Almost half of these firms are mining companies.

We counted with Government sponsoring from 9 different countries related to the Argentine mining industry: Australia, Brazil, Canada, Chile, Korea, Great Britain, Mexico, Peru and South Africa, as well as the Declaration of Provincial Interest by the Government from Salta province and also by the Chamber of Deputies of Salta. We also had the support of the Argentine-Canadian Chamber of Commerce, the Group of Exploration Companies of the Argentine Republic (GEMERA), the Chamber of Mining of Salta and the Chamber of Providers of Mining Companies of Salta as well.

50 speakers addressed during the 3 days.

Several social and networking events were held. The following stood out:

Official cocktail, which took place in Alejandro I Hotel, where attendees and authorities were present, and

Argentina

Mining Awards, among others.

Special luncheon for sponsors and speakers, sponsored by the Australian Embassy and Austrade. During this event, special recognitions were made to each speaker due to their valuable contribution to the development of the conference.

29 national and international media covered the event. Some mining local media were: Mining Press, Panorama Minero, El Inversor Energético y Minero, Pregón Minero, Energía & Negocios, among others; massive local and national media as the main local TV channels and radios: El Tribuno, Telam, Diario Uno, Diario de Cuyo, Cadena 3, among others; International media like: African Mining Brief, Area Minera, Business News Americas, Bulletin, Infomine, Latinominería, Minería Chilena, Miner Andina, Minería Peruana, Mining Journal and Mining Magazine, among others. Access the complete coverage in the Argentina Mining news room.

A broad extension program for the community was carried out. It contained activities like the second contest for students of mining careers: "What does mining mean to me?," which was sponsored by Minera Santa Cruz, as well as the second Forum on Mining Opportunities, sponsored by the Orocobre Group.

Seminar on Corporate Social Responsibility in Mining, organized in the context of the convention, together with the National University of San Martín, the National University of Salta, Prospectors and Developers Association of Canada (PDAC) and the Latin American Body of Mining (OLAMI).