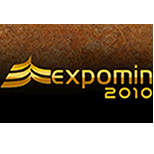 Come visit Argentina Mining at: Expomin 2010. The Center of the World Mining Industry in Chile. April 12-16 , 2010. Espacio Riesco, Santiago de Chile.
2B Pavilion, Booth 510. Argentinean Pavilion.
Participate in Expomin 2010 Promotion! Subscribe to Argentina Mining Newsletter on the box located in our booth, and win an AM 2010 or Latin Exploration 2010 registration.* With the presence of: Daniela Rossi, Business Development Manager Carolina Martínez Hansen, Press & Communication Should you be interested in arranging a meeting, please contact us at carolina@argentinamining.com or call 54 261 4243479, or just come by our booth. Venue and exhibition hours: Espacio Riesco. Avenida El Salto, 5000, Huechuraba. Santiago. 10.00 am to 18.30 pm.
We look forward to seeing you!
*
For terms and conditions click here