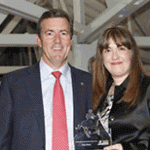 MENDOZA, ARGENTINA. September 30, 2010. Argentina Mining is pleased to share with the international mining community the highlights of its latest Convention, held in San Juan, Argentina on August 31 - September 2. Close to 3000 people from 800 companies and 24 countries gathered during the three days of the Argentina Mining 2010 Convention, in an atypically cold -- and rainy -- San Juan. The accompanying exhibition boasted 110 booths, plus core shack and business rounds areas. The 2010 edition reached yet another attendance record, both in general and from international participation on the eighth edition of the premier mining event in Argentina.
The opening ceremony had the presence of National Secretary of Mining, Jorge Mayoral, San Juan's Governor, Jose Luis Gioja and Vice Governor, Ramon Uñan, and Felipe Saavedra, San Juan's Mining Secretary. Jorge Mayoral, along with greeting attendants, sent his thoughts to the 33 miners trapped in neighboring Chile. He also said that "this thriving industry together with the geological potential of our country and the magnitude of our geography allows us to be extremely optimistic on the future of mining. We'll be a major player in producing, prospecting, and exploration. We have potential and also what it takes -- the political will to set a producing model in motion."
The keynote speech was given by Alberto Salas, president of SONAMI, Chilean National Society of Mining, and the Inter-American Society of Mining. In his lecture, Salas stated that "Mining, in the period 2005-2009, represented 25% of the state income in Chile, some 48 billion dollars with another 45 billion forecasted for 2012." Salas also met privately with San Juan's Governor, Jose Luis Gioja. Both authorities expressed their interest in working together and exchanging information and experiences related to the mining development in Chile and its favorable economic-social impact in the country.
The program included over 60 international and local experts. The best rated speaker was Ricardo Martínez, Geologist and Manager of Argentina Minera SA, who presented an update of Mining in Argentina, and said: "We want to transform Argentina into a great location for mining, a country for labor and the development of opportunities." Among other speakers were John J. Ashburne from Black Horse Advisors; David Wahl from Southampton Associates; and Casilda Malagón from ICMM.
On the award ceremony, the peak moment came when the Outstanding International Entrepreneur award was presented to Ross Beaty, chairman of Pan American Silver, for his continued investments in Argentina. Mr. Beaty travelled especially from Vancouver for the event and expressed, "I am really happy to be in Argentina and delighted with the projects we have here." A large number of his Canadian and Argentinean teams joined him and he dedicated the award to them: "We will continue moving forward and investing in Argentina," Beaty declared.
Also honored were Eduardo Machuca, from Troy Resources, and lawyer Carlos Saravía Frías, former Secretary of Mining in 2001-2002. In turn, Xstrata Copper was recognized for its CSR initiatives.
Of the 800 companies attending, 20% were mining companies, and the same ratio was palpable in the exhibition, cementing Argentina Mining as the local event with larger presence of mining executives. "The importance of the Argentina Mining Convention lies in the great diversity and quality of the participants. Argentina Mining's role in the promotion of mining investment in Argentina is reflected in the large number of foreign executives that come to evaluate Argentina as a destination for their ventures. The visit of a potential project developer creates opportunities not only for the mining industry itself, but also for other supplementary activities," emphasized Paola Rojas, manager of Argentina Mining.
Attendants from 24 countries made possible reaching a new record in foreign attendance, over 30%. The majority came from Canada, followed by Chile, Australia and the US.
In the end, attendees were invited to the sister event of the company, the Latin Exploration 2010 Conference, to be held in late October in Buenos Aires. For more details visit: http://www.argentinamining.com/en/eventos/latin-exploration/
About Argentina Mining:
Argentina Mining is an Events and Marketing firm focused on the Argentinean mining market. Its objectives are gathering the mining community in Argentina and providing a place to promote the activity in the world, developing business opportunities for its members. The company organizes the premier international event of the Argentinean mining sector, the Argentina Mining Convention, which takes place biennially in Argentina since 1996, and the Latin Exploration Conference, among others. Additionally, it provides advisory services in public relations and marketing and develops supplementary products. For further information, please visit
www.argentinamining.com