Special report ©
A wide range of projects, from diverse sizes and minerals are in advanced stages of development. The following projects can be highlighted:
A series of projects of different sizes and minerals are in advanced feasibility and development stages. Among them are:
Pascua- Lama Project, Barrick Gold Corp.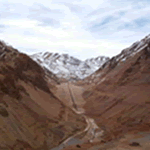 Pascua-Lama is the first bi-national Mining Project worldwide and it consists of the development of an open-pit gold mine, located at more than 13,123 feet high of the border between Chile and Argentina.
On the Chilean side, Pascua is located in Huasco Province –Atacama region-, while on the Argentinean side Lama is located in San Juan province.
Up to 31st December, 2011, Pascua-Lama had proved and probable reserves of 17.9 M oz of gold, with 676 M oz of silver in the gold reserves.
Until middle 2012, the investment planned in 70% of the capital for the mine construction was already made (US$ 4,700 M-US$ 5,000 M), so the production is expected to start in middle 2014.
This project is currently under construction strage.
Search: adapted from: http://www.barrick.com/GlobalOperations/SouthAmerica/PascuaLamaProject/default.aspx
El Pachón Project, Xstrata Copper.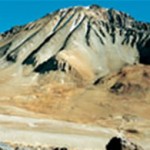 El Pachón is a bi-national Project developed under the Mining Integration Agreement signed between Chile and Argentina in 1997. The deposit contains copper porphyry and molybdenum, and it is located southwest San Juan, 1,9 mi. from the international border with Chile, in front of the Chilean copper deposit "Los Pelambres" in the 4th region, at 11,811 feet high.
El Pachón is a Project that reaches 1790 M tn in mineral resources, with an average grade of 0.51% Cu. The annual production estimated during the first five years is of 400,000 tn of copper per year, while the average during its useful life of production (30 years) would be of 280,000 annual tn. A total investment of approximately US$ 4,100 M is estimated.
Pachón is in exploration stage. As part of this, the updating stage is being developed in a feasibility study. In May, 2012, Xstrata Copper informed that they expect to conclude the Environmental Impact Report of the Project through the rest of 2012. The construction of this project will take 3 years.
Fuente: http://www.elpachon.com.ar/ES/Paginas/default.aspx
Agua Rica Project, Yamana Gold Inc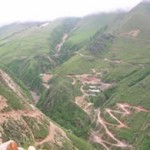 The Agua Rica Project is located in the south extreme of the Aconquija Mountain, at the north of the Andalgalá city, on western Catamarca. Its useful life is estimated in 26 years.
On the Project site, three places are distinguished: Trampeadero (north); Los Rosados pass (northeast); Filo Amarillo and Quebrada Seca (southwest); Minas streams that cross the deposit in northeast > southeast direction and Mencho pass (southeast).
For the mine, a US$ $2,000 M initial investment of Capital is estimated, with projected royalties of US$ $460 M.
The proved and probable reserves are of 908,926,000 tn with 0.49% of copper, 0.22 g/t of gold and 3.5 g/t of silver.
Currently, the Project is under a purchase option agreement with Alumbrera Mining firm and is undergoing the feasibility stage.
Search: adapted from http://www.yamana.com/Operations/ReservesAndResources/default.aspx
Navidad Project, Pan American Silver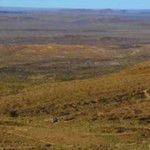 Navidad copper Project is located in Gastre, central zone of the province of Chubut. The advanced exploration was an essential factor for the excellent results obtained in 2001, which took Aquiline to double the Navidad resources. New discoveries as Loma de La Plata and Barite Hill have changed the course of the project. In Lomo de La Plata, the silver mineralization occurrence is at 492 feet of the surface, which is favorable for an open-pit design.
While the exploration keeps on adding new zones with significant potential, drillings will allow expanding the reserves, making Navidad one of the biggest undeveloped projects of silver in the world.
The company is evaluating the pre-feasibility study and the continuation of the project, as well as it is working on the provincial situation.
Search: adapted from/adapted from http://www.panamericansilver.com
Potasio Rio Colorado Project, Vale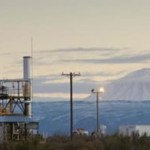 Potasio Río Colorado Project is located in the department of Malargüe, at the south of the province of Mendoza. Its goal is the extraction of potassium chloride for its commercialization as fertilizer in the international market. The biggest potential purchaser in Argentina is Brazil, the third worldwide consumer of potassium.
The studies that have been performed to evaluate the Project feasibility dropped highly positive results, with reserves of 2.4 M tn of potassium, having a potential expansion to 4.35 M tn of potassium. Potasio Río Colorado Project will position Argentina as one of the main producer of fertilizers in the world.
A US$ 5,900 M investment is necessary to develop this resource, including infrastructure (treatment plant- railroads and port terminal). Its construction will take two years and 12,000 (direct and indirect) workers approximately will be necessary to start the project. The mineral will be transported from the deposit to the Bahía Blanca port, after going through Mendoza, Río Negro, Neuquén, La Pampa and Buenos Aires.
Currently, the Project is in its final construction stage, waiting to start operating in middle 2014.
Search: adapted from http://www.valeargentina.com.ar/
San Jorge Project, Coro Mining Corp.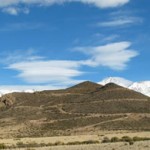 San Jorge Project is located in the province of Mendoza, 28 mi. north of Uspallata and 155 mi. northeast of Santiago de Chile.
San Jorge hosts a medium-size copper and gold porphyry deposit. The company completed the pre-feasibility study on the leachable resources and a Preliminary Economic Assessment on the floatable copper resources. It is currently considering to be an exclusively flotation project, with an annual average of 39,500 tn of copper and 39,000 oz. of gold, contained in concentrates for a 16-year period. This project intends to be bi-provincial, since the processing plant will be located in San Juan province.
The total measured and indicated resources in San Jorge result from 194 M tn with a grade of 0.48% copper and 0.21% g/t Au, meaning 2,050 M pounds Cu and 1,300 oz Au.
The firm received the date of the public hearing during July, 2012. This is a necessary step for the approval of its Environmental Impact Assessment Report.
Search: adapted from: http://www.coromining.com/s/SanJorge.asp
Cerro Negro, Andean Resources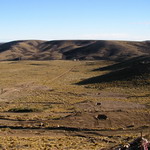 The Project is located in Santa Cruz province, Argentina, at an approximate height of 600 m.a.s.l., which is a high-quality veins system.
The acquisition of the Project by Goldcorp was in 2010. As from such date, gold reserves have been doubled and the new developments support the expectations of the long life of Cerro Negro, having high-quality assets and low-cost productions.
A feasibility study updated in 2011 dramatically expanded the production profile in Cerro Negro. Based on the expected performance of more than 4000 tn per day, the annual production of gold in the first five years, an average of 550,000 oz. is expected at a cash cost of less than 200 dollars per oz. The total investment in this Project will be US$ 800 M.
This Project is under construction and its gold production is expected for the second semester of 2013.
Fuente: http://www.goldcorp.com/
Lindero, Mansfield Minera.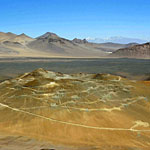 Lindero is located at 279 mi. west of Salta city and 7.45 mi. southeast of the Río Grande project.
It contemplates the open-pit exploitation with mineral recovery by means of heap leaching and the generation of 750 workstations approximately. The initial investment for the construction of infrastructure and the logistic will require US 213 M. Mansfield considers that the mine could start producing in less than two years.
During the first five years of operation, Lindero will produce an annual average of 161,000 oz/year, with a 0.81 g/tn standard and a useful life estimated in 10 years.
The Project is currently in the final feasibility stage, waiting for the corresponding approval.
Search: adapted from/adapted from http://www.mansfieldminerals.com/s/Lindero.asp
Diablillos, Pacific Rim Mining Corp.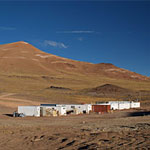 Located in the region of "La Puna", northeast Argentina, this project meets the border between Salta and Catamarca, 99 mi. southeast from Salta. Its altitude varies between 4,100 and 4,650 m.a.s.l. and it is bordered northeast by Salar de Diablillos and southeast by Salar del Hombre Muerto.
It contains a high- sulfidation epithermal deposit, where it hosts indicated resources of 640,000 oz of golf and 6.3 M. oz of silver.
The company is evaluating the pre-feasibility study and the continuation of the project.
Search: adapted from http://www.silverstandard.com/projects/dev_feas/diablillos/
Salar del Rincón, Ady Resources Ltd.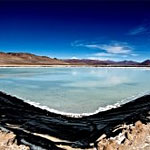 It is situated in the province of Salta, near the border with Chile, by Paso de Sico and 93 mi. from San Antonio de Los Cobres.
It hosts lithium, boron and sodium sulfate mineralization. The mineral resource at Salar del Rincón has the highest level of chemical purity. It has a high content of lithium carbonate (>99.5% o > 99.9%) and low content of impurities, non-desired by different industries who are users of the product. The exploration performed in the 30,000 ha of the Salar shows brine with concentrations of low variation up to 984 feet deep, with values varying between 400 and 600 mg/l.
The project is currently under the development stage. Ady finished the first stage of the plant construction that produces 1200 tn/year of lithium carbonate. It counts with 1,500,000 tn of resources.
The work required an investment of US$ 75 M. At the same time, Ady Resources committed other US$ 297 M to assemble three processing plants for lithium, boron and sodium sulfate in order to reach a production of 50,000 tn/year.
Search: adapted from/adapted from http://www.ady.com.au
Cerro Moro, Extorre Gold Mines Limited (95%) y Fomicruz (5%)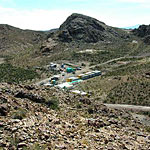 It is located 43 mi southwest from Puerto Deseado, in Santa Cruz province.
It hosts gold and silver mineralization. Cerro Moro is a low epithermal sulfidation where 30 veins have been identified. The veins of gold with silver at Cerro Moro are generally narrow (3.28 – 16.4 feet width) and sub-vertical. The high degree of gold and silver in the Escondida deposit has been tested in drillings of 1.24 mi. long and 656 feet deep.
The deposit counts with indicated resources of 578,000 oz of gold 38.800.000 oz of silver (1.350.000 oz of gold equivalent), inferred resources of 528,000 oz of gold and 26,200,000 oz of silver (1,050,000 oz of gold equivalent) This includes the contribution of the four new zones: Zoe, Martina, Carla and Nini. 76% of it contains 30 g/tn of gold or more; an exceptional number. The inferred resources mostly come from Escondida, Loma Escondida, Zoe, Martina, Carla, Gabriela, Esperanza and Deborah. In 2011, the indicated resources increased 46% and the inferred ones 166%, especially due to Zoe vein (79 g/tn of gold equivalent). Drillings in Esperanza made possible the discovery of the Nini vein, which contributed with almost a 20% of the inferred resources.
The Mining Project obtained the Environmental Impact Statement (E.I.S) by the Government of Santa Cruz The Preliminary Economic Study anticipates a useful life of 8.25 years and 1000tn/day in exploitation stage combining open pit and subterranean methods.
Search: adapted from/adapted from http://www.extorre.com/projects/cerro_moro.php
Olaroz Project, Orocobre Ltd.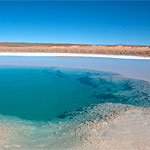 This Project is located 167 mi. west from Jujuy city, 3,900 m.a.s.l. The average temperature is 8ºC and rainfall is minor to 100mm/year. The average speed of the wind is 15 mi/h. These conditions plus the low clouds are adequate for solar evaporation processes.
It mainly hosts mineralization of lithium and potassium. Olaroz is different from the rest in his species, since it is not dominated by halite. As a result, the specific yields of the sand and the stones are not rapidly reduced with depth; therefore, the zone under the clay layer (used as inferior limit of the current estimation of the resources) is an attractive goal for exploration.
The drilling has determined the salt lake of, at least, 656 feet depth. The basin reaches a depth of 1968 feet.
Resources and reserves are estimated in 6,400,000 tn of lithium carbonate and 19,300,000 tn of potassium. In 800 g/kl the average qualification of lithium is similar to Salar del Hombre Muerto and it approximately doubles the degree of the operation of Silver Peak and Salar del Rincón.
The construction stage will begin in September, 2012 in order to start the production in early 2014. US$ 250 M will be invested, having a production of 16,400 tn/year of lithium with the option to produce 10,000 tn/year of potassium by using 550 people during the constructions phase, and 270 people when the operation starts.
Search: adapted from http://salesdejujuy.info/Project-olaroz-jujuy/
Don Nicolás Project, Minera IRL Limited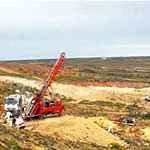 At the end of 2009, Minera IRL Limited completed the purchase of Hidefield Gold Plc. This transaction allowed the firm to acquire Don Nicolás Project and a comprehensive package of exploration properties of approximately 1677 mi2 in Santa Cruz Province, Argentinean Patagonia.
The assets of Minera IRL Patagonia are located inside a huge ecological complex known as Macizo del Deseado. This geological formation hosts a large number of new epithermal gold deposits of high and low sulfidation, converting it in an important district of precious metals.
Don Nicolás Project is based on two district resources: La Paloma and Martinetas, and it is currently undergoing the feasibility study stage. This project contains an average and indicated resource of 381,000 oz of gold plus an inferred resource of 145,000 oz of gold. Having the updated resource, the feasibility program includes the mine design and the production program, metallurgic tests, infrastructure studies, environmental studies and cost projections of capitals and operations. The aim is to constitute and start the production of a new gold mine in 2013.
Search: adapted from http://www.minera-irl.com/ProjectsAvanzados/DonNicolas/tabid/225/Default.aspx
El Quevar Project , Golden Minerals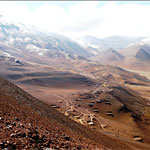 El Quevar silver project is located in the commune of San Antonio de los Cobres, Salta province, in the highlands region of northeastern Argentina, 186 mi. northwest of Salta city, capital of the province. The nearest town is Pocitos, which is inhabited by approximately 150 people. Pocitos is located 9.3 mi west of the Project. It counts with a camp for 140 people at 6.21 mi west of the project.
El Quevar is characterized by its veins and silver-rich disseminations in tertiary volcanic rocks, which are part of an eroded stratovolcano.
Golden Minerals announced the updating of the resources estimation in the Yaxtché deposit, regarding El Quevar project. The new resource consists of 7.1 MT, with a grade of 141.3 g/t of silver for a total of 32 Moz of silver of indicated resources, and an inferred resource of 6.2 MT with a grade of 152.3 g/t for 30.2 Moz of silver. This estimation implies an increase of 250% compared to the previous values (April, 2012).
Search: adapted from http://www.goldenminerals.com/elquevar.php