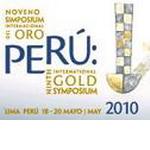 The International Gold Symposium is one of the mandatory events in the Latin American mining  sector which gathers businessmen, leaders, investors, government officials, executives and technicians involved in the gold sector in Peru and the world. Its main objective is to analyze the outlook for gold in the international markets and, for the first time in 2010, silver will also be part of the agenda. In 2008, this event had 61 speakers (36 foreign) and an exhibition hall that was visited by over 5,000 people. Information about this event:
Frequency: Biennial
Type of event: Symposium
Date: May 18-20, 2010
City: Lima, Peru
Venue: SwissÔtel
Area: 1,200 sqm
Exhibitors: 85 companies (approx.)
Countries: 24 (approx.)
Participants: Visitors, 5,000 and delegates, 1,000 (aprox.)
Organizer: Sociedad Nacional de Petróleo y Minería
Source:  Organizers' website. More information at:
http://www.snmpe.org.pe/noveno_simposium/

Argentina Mining will attend this event.