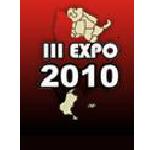 San Juan, a Driver for Argentine Mining Development, III International Exhibition will be held on June 2010 at the San Juan Fairgrounds.
This Exhibition includes participation of suppliers of equipment, technology, parts and services for the mining industry, as well as of mining companies operating in Argentina. The exhibition has indoor booths as well as a large outdoor area for machinery.
This event also has supplementary activities such as business rounds and maintenance seminars.
Information* about this event:
Frequency: Biennial
Type of event: Tradeshow
Date: June 2-4, 2010
City: San Juan, Argentina
Venue: San Juan Fairgrounds
Area: N/A
Exhibitors: 200 companies (approx.)
Countries: 20 (approx.)
Visitors: 8,000 (approx.)
Organizer: Panorama Minero
*Information from the organizers.
More information at: http://www.sanjuan-minera.com.ar/

Argentina Mining will be present in this event, at booth N°313, Pavilion 1.