By Paola Rojas*
Participating in events is a costly endeavour and as a result it requires careful planning to maximize your ROI. Some experiences in PDAC and Expomin that help to reach this goal.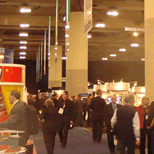 PDAC: "Where the mineral industry meets".
When they say that PDAC is where the mineral industry meets it is true. This year the Convention hit yet another record of attendance: 22,000. And this is what makes PDAC so relevant, one of the most important events in the mining industry worldwide.
Our group has attended since 2003, and it became a tradition we enjoy. Every year we take part in this mega event, mind blowing multitude of mining people: investors prance around the halls of the Investors Exchange, checking up new investment alternatives, delegates attend the always busy and interesting program, and exhibitors showcase their offerings. Much like a normal tradeshow... However, aside from the technical program, the opportunities to network socially are countless: hospitality suites, cocktails, dinners, etc. Everything aimed for people to connect -or reconnect-.
This year our agenda was jam packed. We had two or more social events each day, several meetings pre-arranged, plus many prospects to visit so we really had to time everything carefully. Our favorite functions? Well, there is something for everyone and there are some classics. Major's fancy –but very warm- lobster dinner, the PDAC's Awards Gala (something like a "Mining Oscars Night"), the CMP Party and of course the Tango Night organized by the Argentinean Pavilion.
This year, many companies were interested in Argentina -and not only on the scarfs!-.
Luckily, the careful planning paid off. We came back with a sense of accomplishment and a job well done.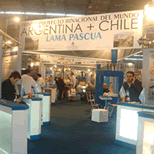 Expomin: "The center of the mining world in Chile"
Expomin is one of the largest mining fairs. Perhaps due to the Earthquake and fears of replicas people attending thought there were less people on the aisles, but even so, it was huge. Four halls gathered over 1000 exhibitors, and many countries were represented. USA, Australia, Germany, Peru, Brazil and South Africa had country pavilions, and Argentina did too. The Mining Secretariat upped the bet from 2008 and had a larger, more produced sector with some 160 companies.
Expomin is quite different from PDAC, since it is focused on mining operations and most of the companies exhibiting are suppliers looking to showcase their products. Chile has a strong set of mines in operation and they are in constant need for technology, equipment and services.
Maybe due to the distances in Santiago, it is a bit harder to plan a social agenda as diverse as PDAC's but you can make the most of the tradeshow floor visiting the functions there. There are usually seminars and business rounds that you can attend too.
Take your pick Different sides of the mining cycle are showcased in these two well-known events, and to choose which one is best for you and your firm to be present depends on who your target audiences are. If you aim at mining producers, Expomin is your best bet. On the other hand, if your interest is in exploration and development PDAC –and provided your offer is bilingual- is the place to be. In the case you can service all stages then feel free to pick both.
In any case, participating in events is a costly endeavour; as a result it requires careful planning to maximize your ROI. Make sure you follow these tips and you will be on your way:
1. Let your network know (either online or offline) that you are participating in the event. 2. Make sure you set up some meetings beforehand. 3. Set up a way to check your emails daily 4. If possible, set up camp in a nearby hotel, your feet will thank you and you will save time. Our favorite in Toronto is the Sheraton, but several exist within walking distance.
*Paola Rojas has wide experience in providing end-to-end geological, new project generation, business management and public relations solutions. She is graduated in Architecture from National University of Tucuman and holds an MBA from Catholic University of Cordoba, Argentina. She is currently Manager of the Argentina Mining Conference and Business Development Manager of Rojas & Asociados .