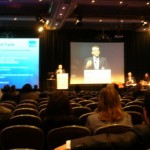 The 9th World Copper Conference in Chile took place on April 7-8, 2010. Distinguished speakers from both the public and private sector presented projects, copper market trends, Asian demand and technology lectures. Paola Rojas attended the event at the Hyatt Santiago and spoke with numerous executives as well as exhibitors, among them representatives of companies who are regular attendants of Argentina Mining events, such as ABB, Air Liquide, Mincom, as well as some of Argentina Mining's proud sponsors like Minera Andes.
The following speakers are worthy of mention: Fred McMahon, Director of the Fraser Institute, who presented an analysis of the ratios for evaluating investments in Chile drawing a comparison with other Latin American countries from their Annual Report, and Nelson Pizarro, who presented the latest updates on the Caserones project, formerly known as Regalito. Entrepreneur Ross Beaty–Chairman of Pan American Silver- sold Regalito in 2006 to the Japanese consortium Pan Pacific Copper which changed its name and took the project to its current state.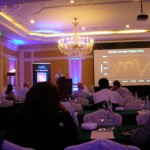 Among the parallel activities of the week, GFMS, a well recognized analyst firm specialized in metal markets, launched their new Copper Survey 2010 at the traditional Ritz Carlton Hotel. A special panel of specialists presented their projections for the copper market. GFMS is also known for its traditional Gold Survey and their analysts are normally invited to top notch events.
The CESCO week ended with the CESCO Dinner, where over 1,600 high ranked executves of the sector gathered at the Club Hípico of Santiago. The main speaker was Jean Paul Luksic, CEO of Antofagasta Minerals.
Ricardo Cortes, Director from Argentina Mining, Carmen Eleta, Sales Representative from GFMS, and Pablo Bravo, Editor from Mineria Chilena.
The 9th World Copper Conference is part of the activities of the CESCO week, and it is organized by CRU Events. For more information visit: http://crugroup.com/Events/CRUEvents/worldcopper/Pages/Copper2010.aspx