[caption id="attachment_3952" align="alignleft" width="150" caption="Argentinean Pavilion at Expomin"]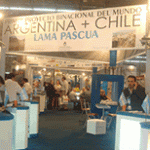 [/caption]
The 11th edition of Expomin, one of the most important mining fairs in Latin America, took place on April 12-16 at Espacio Riesco in Santiago de Chile. More than 1,000 suppliers of technologies, equipments, machinery, services and provisions; and over 68,000 visitors attended the fair contributing to the success of the event.
Argentina Mining was present at the Argentinean Mining Pavilion of the National Secretariat of Mining, with more than 160 mining producers, service supply companies, independent professionals, and representatives of provincial governments.
The start up of Pascua Lama construction, the first binational enterprise in the world to take place in the context of the Mining Integration Treaty between Argentina and Chile, with an investment of over 3,000 million dollars, stood out during the fair on account of the expectations it raised among the public.
Carolina Martínez and Daniela Rossi from Argentina Mining, Argentinean Booth
Daniela Rossi, Business Coordinator of Argentina Mining, and Carolina Martínez Hansen, Press & Communication, attended the event to promote the next edition of the International Convention on Business Opportunities in Exploration, Geology and Mining, Argentina Mining 2010, which will be held from August 31 till September 2, 2010 in San Juan province; and Latin Exploration, the 2nd International Conference on Exploration in Latin America to take place on October 28-29, 2010 in Buenos Aires.
Moreover, Argentina Mining awarded the winner of the special Expomin 2010 offer a free registration to an AM event. All those who subscribed to the AM Newsletter during the fair either by dropping their business card or the form to request information at the AM box, participated in the special offer. Meet the winner here >>
[caption id="attachment_3957" align="aligncenter" width="356" caption="Outdoor Exhibition"]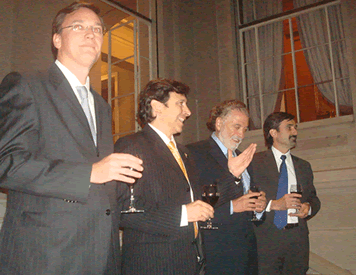 The Subsecretary of Mining of Chile, Pablo Wagner, next to the Minister of Mining of Chile, Laurence Golborne, the Ambassador of Argentina in Chile, Ginés González García and the Secretary of Mining, Jorge Mayoral, in the reception offered by the Argentinean Embassy.