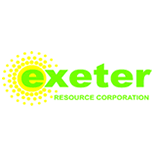 MENDOZA, ARGENTINA. January 13th, 2010. Argentina Mining is pleased to announce that Exeter Resource Corporation, the Canadian mining company owner of significant projects, like Cerro Moro in the province of Santa Cruz, Argentina - in joint venture with FOMICRUZ-, among others, has confirmed its participation as Gold Sponsor for its Argentina Mining 2010 Convention, to be held in San Juan, on August 24-26, 2010.
Exeter Resource has participated in the Argentina Mining events since 2006, as sponsor and with outstanding presence in the program.
[gallery link="file"]
"We thank Exeter for their continued support to our events, and acknowledge their merits and contribution to the mining development in Argentina. Exeter's outstanding discoveries over the last years, as Cerro Moro, Don Sixto (ex La Cabeza), and Caspiche in Chile clearly evidence their effective exploration strategy. Investors trust in the company's abilities due to the solid performance of their shares, which have risen over 4 times in the last year", said Nivaldo Rojas, Director of Argentina Mining.
Exeter is among the 14 well known companies already confirmed as sponsors: Pan American Silver, Minera Andes, Silver Standard, Alex Stewart, Calypso Uranium, MWH and Beretta Godoy, among others, as well as numerous exhibitors, who have already occupied 90% of the exhibition hall.
About Exeter Resources Corporation: Exeter Resource Corporation is one of the most active publicly traded mining companies operating in South America. Their business is the discovery, evaluation and subsequent mining of gold-silver deposits, principally in Argentina and Chile. Principal projects of the Company include Cerro Moro high grade gold-silver deposit, located at Puerto Deseado County, Santa Cruz province; Caspiche gold-copper porphyry discovery, located at Copiapo province, III Region of Atacama; and Don Sixto gold-silver deposit, located at Malargüe county, Mendoza province. For further information please visit http://www.exeterresource.com .
About Argentina Mining Argentina Mining is an Events Marketing company focused on the Argentinean market. Its objectives are gathering the mining community in Argentina and providing a place to promote the activity in the world, developing business opportunities for its members. The company organizes the premium international event of the Argentinean mining sector, the Argentina Mining Convention, which takes place in Argentina since 1996, and the Latin Exploration Conference, among others. Additionally, it provides advisory services in public relations and marketing and supplementary products.