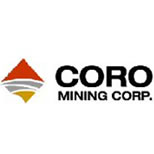 MENDOZA, ARGENTINA. June 29th, 2010. Argentina Mining is pleased to announce that CORO Mining Corp., a Canadian company, has confirmed its participation as Gold Sponsor for the Argentina Mining 2010 Convention, to be held in San Juan, from August 31 till September 2, 2010.
CORO has a proven highly experienced team successful in the search of mines around the world and, thanks to its knowledge, it develops mine projects in Latin America. In Mendoza, CORO is the owner of San Jorge copper project and it is also exploring two properties in Chile.
"It's very rewarding for us that a company of such high standing as CORO participates as sponsor in our events. It shows their interest in supporting the mining activity in our country and clearly demonstrates their desire to continue investing in Argentina," said Paola Rojas, Manager of Argentina Mining, company which organizes the Argentina Mining 2010 Convention.
CORO is joining the 21 well known companies already confirmed as sponsors which are confident of the quality of the most important mining event in Argentina: Pan American Silver, Votorantim, Minera Andes, Silver Standard, Minera Santa Cruz, Anglogold, Alex Stewart, Exeter Resources, MWH, SGS, Beretta Godoy, LI3 Energy, Cartellone, Acme Labs, ATA, Aggreko, Gemcom, among others, as well as numerous exhibitors who have already occupied the 96% of the main exhibition hall.
About Argentina Mining Argentina Mining is an Events Marketing company focused on the Argentinean mining market. Its objectives are gathering the mining community in Argentina and providing a place to promote the activity in the world, developing business opportunities for its members. The company organizes the premium international event of the Argentinean mining sector, the Argentina Mining Convention, which takes place biennially in Argentina since 1996, and the Latin Exploration Conference, among others. Additionally, it provides advisory services in public relations and marketing and develops supplementary products. For further information please visit www.argentinamining.com
About CORO Mining Corp.: CORO Mining Corp. is a Canadian company experienced in international mining, including Latin America. CORO develops the San Jorge project, located in the province of Mendoza, which stretches along a surface of 115,000 hectares and hosts a medium-size copper gold porphyry deposit. Coro's business strategy is to operate in a sustainable and dynamic way preserving the environment. For all their projects, a major company's concern is the identification, evaluation and mitigation of the potential impact mine development may have on the environment and ecosystem of the region. For further information please visit www.coromining.com