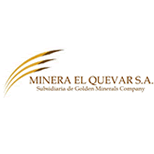 MENDOZA, ARGENTINA. July 22nd, 2010. Argentina Mining is pleased to announce that Minera El Quevar, a subsidiary of Golden Minerals Company, has confirmed its participation as Copper Sponsor for the Argentina Mining 2010 Convention, to be held in San Juan city, from August 31 till September 2, 2010.
Golden Minerals is a mining company with a focus on exploration, development, providing mine services, and growth through strategic business transactions. The company has a broad portfolio of exploration projects and an experienced management team with global experience.
Minera El Quevar is the owner of the El Quevar Project which is located in the northwestern region of Argentina in the Salta Province. From 2004 to 2009, the company invested approximately 12.8 million dollars on exploration and related activities at El Quevar. The Project includes 14 exploitation concessions totalling 27,554.96 hectares and six exploration concessions totalling 36,771.55 hectares.
"We would like to welcome Minera El Quevar and appreciate their support as sponsor to the Premiun mining event in the country," said Paola Rojas, Manager of Argentina Mining, company which organizes the Argentina Mining 2010 Convention.
El Quevar is joining the 25 well known companies already confirmed as sponsors which are confident of the quality of the most important mining event in Argentina. Some of the companies that support Argentina Mining 2010 are Votorantim, Pan American Silver, Minera Andes, Silver Standard, Hochschild Mining, Anglogold, Alex Stewart, Calypso Uranium, MWH, SGS, Beretta Godoy, LI3 Energy, Cartellone, CORO, Peregrine Metals, Exar, among others.
About Argentina Mining:
Argentina Mining is an Events Marketing company focused on the Argentinean mining market. Its objectives are gathering the mining community in Argentina and providing a place to promote the activity in the world, developing business opportunities for its members. The company organizes the premium international event of the Argentinean mining sector, the Argentina Mining Convention, which takes place biennially in Argentina since 1996, and the Latin Exploration Conference, among others. Additionally, it provides advisory services in public relations and marketing and develops supplementary products. For further information, please visit www.argentinamining.com
About Minera El Quevar:
Minera El Quevar is a subsidiary of Golden Minerals Company and develops the El Quevar Project where exploration activities are carried out in northwestern Argentina. Golden Minerals' President and CEO is Jeffrey G. Clevenger, who has more than 35 years of mining experience, primarily at a senior management level with companies as Apex Silver Mines Limited, Cyprus Amax Minerals Company and Phelps Dodge Corporation. For further information, please visit www.goldenminerals.com