Attend the Premium International Meeting of the Mining sector in Argentina and gain access to the key topics to understand mining in our country. Argentina Mining 2010 is the 8th International Convention on Business Opportunities in Exploration, Geology and Mining, event that will take place in San Juan, Argentina on August 31, and September 1-2.
Until August 20, the early bird registration rate is USD 490 + VAT. This fee also includes registration as an Argentina Mining Membership member, the first membership program of the Argentinean mining sector, which grants exclusive benefits and the possibility to expand your network of contacts.
Highlights
• Renowned local and international speakers will arrive at San Juan. • Exhibition of mining projects, as well as products and services from main suppliers. • Multiple networking opportunities. • Presence of the majority of mining companies operating in the country. • Attendants from Argentina, Chile, China, Canada, Australia, USA, Peru, Brazil, UK, South Africa, Switzerland, and other 20 countries. • Forecasted attendance of 3,000 people between delegates, exhibitors and visitors.
Conference Program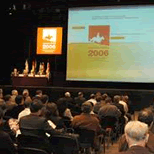 The conference program will gather over 40 distinguished local and international speakers and, during three days, it will cover topics such as: perspectives, precious metals, base and ferrous metals, industrial and energy-producing minerals, exploration in Argentinean provinces and Management.
For further information about the conferences and its speakers, click here >>
Argentina Mining 2010 is aimed at presidents, CEOs, vice-presidents, and managers of mining companies, which are evaluating the region or are already installed in the country, executives of service and supply companies, governmental entities and associations, and professionals working in the mining activity.
Participate in the most important event of the Argentinean mining sector and join  Argentina Mining Membership for the same price, having access to additional benefits.
For further information about Argentina Mining Membership, click here>>
*Regular onsite rate compared to corporate discount rate.