Uranium 2010: August 15-18. Saskatoon, Canada.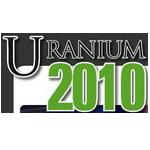 Saskatoon is the host city for the 3rd International Conference on Uranium organized by the Hydrometallurgy Section of the Metallurgical Society of the Canadian Institute of Mining, Metallurgy and Petroleum (CIM). The 2nd International Conference on Uranium Processing and Mining was also held in Saskatoon in 2000. On the occasion of the 40th Annual Hydrometallurgy Conference, the Hydrometallurgy Section continues its tradition of holding a major international conference on Uranium in Saskatoon.
Saskatoon is the home of Cameco Corporation and AREVA Resources Canada, two of the world's largest uranium producers.
Information about this event*:
Frequency: Biennial
Type of event: Tradeshow
Date: April 12-16, 2010
City: Santiago, Chile
Venue: Delta Bessborough and the Sheraton Cavalier Hotel
Area: 60,000 sqm
Exhibitors: 1,100 companies (approx.)
Countries: 30 (approx.)
Visitors: 60,000 (approx.)
Organizer: Hydrometallurgy Section of the Metallurgical Society of the Canadian Institute of Mining, Metallurgy and Petroleum (CIM)
*Information from the organizers
Más información: http://www.metsoc.org/u2010/index.asp
Vea más / Read on