Latin Exploration 2011
3rd International Conference on Exploration in Latin America.
October 17 and 18, 2011. Sheraton Retiro Hotel.
Buenos Aires, Argentina.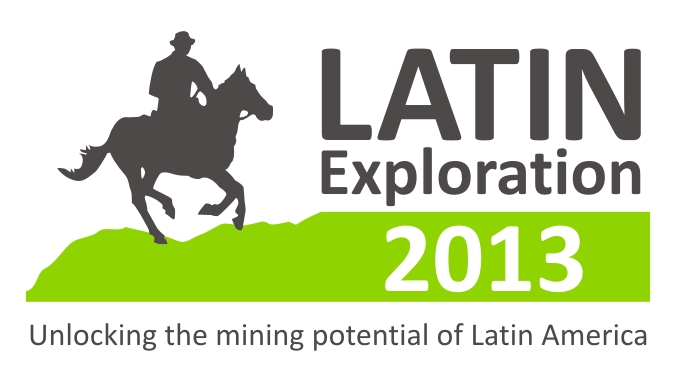 Latin Exploration is a conference that gathers key players on exploration in Latin America aiming to discover exciting new projects and business opportunities.
-
-
Unlocking the Mining Potential of Latin America.
Why
•Receive in depth information of several countries in one of the most attractive exploration destinations in the world.
•Network with key players from mining companies currently working or interested in the region, as well as suppliers.
•Discover interesting projects for acquisition or JV.
•Attendants from Argentina, Chile, China, Canada, Australia, USA, Peru, Brazil, UK, South Africa, Switzerland and 20 other countries. See what they say about Latin Exploration >>
•Forecasted attendance of 150 delegates.
•Generate deals and opportunities.
Conferences
Latin America is the ultimate exploration destination, with great geological potential, from base and precious metals to industrial minerals and energy metals. Two days of high-level conferences will inform you on the current status of exploration and potential on selected projects from countries such as Chile, Mexico, Peru, Colombia, Argentina and Brazil, among others; commodities and their outlook; financing exploration and risk assessment; CSR strategies; corporate experiences, and opportunities on mining in the region.
What's new: Project Exchange
The Project Exchange is a new way of promoting a project.  Junior mining companies will find it useful for finding new partners for JV, getting offers to farm-out properties or even getting capital from savvy investors.
Register for the Project Exchange and get maximum visibility among the delegates:
Know who is attending in advance.
Project Directory: take advantage of our social networks and website.
Schedule meetings prior to the event.
Showcase your project in 10 or 20 minute presentations.
Have one-on-one meetings for the afternoon of day 2.
Who
This event is directed to Presidents, CEO, Vice-presidents and Exploration Managers of mining companies that are considering the region in their exploration strategies or those already installed; executives from suppliers of exploration services, as well as financers, brokers and other professionals involved in the finance side of the mining business.
Both previous editions gathered over 100 executives from more than 80 companies, and in 2010 the official cocktail was held at the Canadian Embassy. For more details, you can review the list of participating companies, the program, as well as general general information.
How to participate?
These are the options to participate in Latin Exploration 2011:
Sponsorship: A limited number of corporate sponsorships is available for Latin Exploration 2010, specifically tailored for both mining companies and exploration suppliers. See more >>
Project Exchange: Show your mining projects to the mining community. See more >>
Attendants: Attend the presentations and networking activities. See more >>